---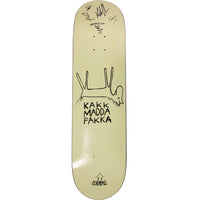 Vi har gleden av å gi dere Cobble Skateboards X Kakkmaddafakka. Alle brett er signert av hele bandet. 

Brettene kommer i 8.25, 8.375, 8.5 og 8.75. 

Vi are happy present Cobble Skateboards X Kakkamaddafakka. All boards are signed by the band. 
Sizes: 8.25, 8.375, 8.5 og 8.75. 

Shipping world wide. 

Norwgian tax will be removed in the register if ordering abroad. Customs charge in your country is not included.